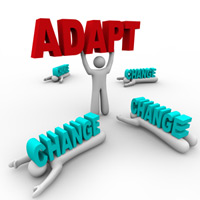 Back in 2001 when I was laid off from Motorola, they provided free classes to help prepare former employees to find new jobs. One of the first things they taught us was a way to determine how difficult it was going to be to find new work. My goal is to pass this knowledge along to you, so that you can make the best choices possible when determining what career path you are going to take.
During your job search you will have a choice to make. Do you want to stay in the same type of job and industry or do you want to make a change? If you were happy with your last job, you will probably want to stick with the same type of work that you just left.
But what if you were not happy with your last career? Or you may have been happy but the work you were doing is being driven out of existence through outsourcing or obsolescence. Whatever the case may be, the greater the deviation from your last job and industry that you make, the more difficult it is going to be for you to find employment.
During the first day of class of the class I spoke of earlier, I was provided with a model that demonstrated the degrees of difficulty there would be in finding a new job. The farther you deviate from your last career and industry, the more difficult it becomes to find work. The model looked something like this:
Same job-same industry, Same job-similar industry, Similar job-same industry – In these three scenarios you will find employment the quickest.
Similar job-similar industry, Different job-Same industry, Same job-different industry – You will require some training to find work.
Different job-similar industry, Similar job-different industry – Extensive training will be required to find work.
Different job-different industry – This will be a very difficult change to make. A lot of training will be required and pursuing this course will take the longest time to find employment.
At the time I was laid off, the dot-com bubble had just recently burst and there was a glut of internet talent out of work that I would have had to compete against. So I had a similar choice that many people today will have to make.  I could have either stayed in my current field and struggled to compete for the few remaining Internet jobs, or I could re-invent myself and choose another career path.
In the end, I chose to get more training and stay within my field of expertise. I believe that is going to be the wiser of the two choices with the current economy and job situation. With the national unemployment rate currently at 9.2% and no improvement in sight, the workers with the most experience in a given field will be hired first.