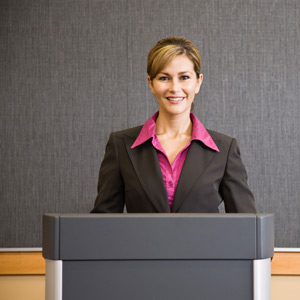 One of the hardest things you will have to do is to evaluate yourself and your performance in your last job but a self-evaluation is a necessary step in creating your resume. A self-evaluation will also help to prepare you for the difficult interview questions and will improve your self-confidence.
Identify and write down a goal you had in your last job or a problem you solved for your last employer.
Write out a list of action verbs that describe what action you took to accomplish your goal or solve your problem. Then write an action statement that describes exactly what you did using one of those action verbs.
 Now write down what the results of your actions were. Be specific and include quantifiable results.
With these three pieces of information you can now create an accomplishment statement that you can use as one of your bullet points on your resume.
Identifying a Goal / Problem
Identifying a goal or a problem that you solved can sometimes be difficult at first. This is because you are not used to thinking about your job, you're used to doing your job.  One way you can identify problems and goals is to think through your daily routine at your last job and evaluate each aspect of what you worked on.
For example, let's say that in your last job you were supervising a manufacturing line of twenty people. One of your goals was most likely to make sure that at least X amount of product was assembled every day.
Action Verbs
Now that you have your goal, you need to think about what actions you took to achieve that goal and come up with some action verbs to describe what you did. Some examples of action verbs would be: reduced, improved, decreased, planned or organized. I've created this action verb list to help you find the appropriate action work for your accomplishment statements.
Using the previous manufacturing supervisor example, you could create an action statement based off of one of the words listed above. A good action statement would be something along these lines, "Reduced morning set up time by pre-assigning employees to specific tasks."
Results
Writing your results statement can sometimes be difficult even if the results are numerically quantifiable. Take a look at these three results statements:
Exceeded product output goal by an average of 1% each week in a ten-week period.
Increased product output over ten weeks to consistently exceed manufacturing goals.
Increased productivity by 21% and consistently exceeded manufacturing output goals over a ten-week period.
Each of those statements would be true if your production goals were 100 units and you improved from manufacturing 80 units each week to manufacturing 101 units each week. But doesn't the last one sound so much more impressive?
Remember to tailor your results statement so that they give the most impressive first impression.
Finishing Your Accomplishment Statement
You now have all of the pieces you need to write your accomplishment statement.
Reduced morning set up time by pre-assigning employees to specific tasks, which increased productivity by 21% and consistently exceeded manufacturing output goals over a ten-week period.
It is important to make sure that you do not embellish your accomplishments. With the national unemployment numbers for August 2011 at 9.1% and the average time an out of work person is unemployed at 39.7 weeks, employers can afford to pick and choose their employees carefully. Making a false statement on a resume is a sure way to ensure you will not be called for an interview.