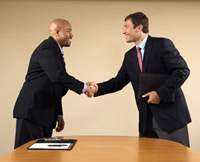 Your 90 second introduction should be broken down into three sections: The past, the future and your question. There is also the possibility that you will be interrupted and asked the reason you are looking for work.
The Past
The first 60 seconds of your 90 second introduction should be used to talk about your most recent job history. You can pull information out of the accomplishment statements that you created previously and rework them so that they fit within the context of a 90 second introduction.
Choose the accomplishment statements that are the most impactful for your intended audience. If you are asked the dreaded, "Tell me about yourself" question by an interviewer make sure that you have prepared your 90 Second introduction ahead of time so that you can hand pick the most relevant statements to that company.
Sixty seconds is approximately 140 to 145 words. Keep this section within that range and adjust it as needed.
Interruption
Once you make it past your work history, your audience may interrupt you and ask the reason you are looking for a new job. Prepare yourself ahead of time with a one sentence explanation. Keep it to only one sentence and work in a transition to continue on with your 90 second introduction.
Here is an example of the one sentence I used back when I was laid off from Motorola in 2001:
As you may have heard, Motorola has been going through some tough times lately and since I had the least seniority in my section, I was one of the ones laid off.
Only use your interruption sentence if you are asked for this information.
The Future
The last 30 seconds should be used to talk about your target career. Be specific. Talk about the industry and position you are interested in. Mention companies that your audience may have heard of.
Thirty seconds is approximately 70 to 75 words. Keep this section within that range and adjust it as needed.
Your Question
Now that you've given them your past and future, give them something to say by asking them a question. Your question will vary depending on the situation you are using your 90 second introduction in. You're not going to ask the same question of someone interviewing you that you would ask of someone you are networking with for information.
Tailored 90 Second Introduction
While you should create a 90 second introduction to be used in unexpected encounters, you should also customize one for each planned encounter. If you're in the line at the grocery store and start chatting with the person behind you, use your general 90 second introduction. If you have an interview with a corporation that you've been courting for weeks, create a 90 second introduction tailored to that job opportunity.
Creating custom tailored 90 second introductions will also help you adjust on-the-fly when an unexpected question is asked or made.
Practice
One of the most important aspects of your 90 second introduction is that it should sound natural. You should not sound as if you are reading a pre-memorized script. One way to eliminate that unnatural sound is to practice your 90 second introduction on your friends and family. This will help you to become more comfortable and less rigid.
One of the techniques that I found useful with my 90 second introductions was to write out the full introduction and then pull out an ordered list of keywords, one keyword for every sentence or two. I would then memorize those keywords in the order that I needed to talk about them. Once I had the list of keywords memorized, I could think through those keywords one at a time to trigger the topic that I needed to bring up next. This helped me to sound natural when using my 90 second introduction. If you are comfortable using a memorized keyword list, it can help out a lot.
Free Templates
You can download a free 90 second introduction worksheet from our Job Search Resources page in both Word and Excel format.