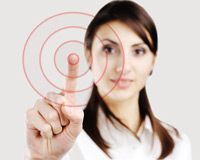 When To Use A Work Objective Statement
Your work objective statement, also called a resume objective statement, tells an employer exactly what  job you are looking for and qualified to do. Use a work objective statement to focus potential employers on the type of career you are looking for in one succinct sentence.
Your work objective statement needs to serve a purpose. If you decide to a work objective in your resume, first ask yourself what value will it add. How will it help your chances of finding a job. If the work objective statement adds no value to your resume, it is only taking up space that could be used to highlight your skills and accomplishments. If you find that your work objective statement addressing a specific issue and adding value, remove it and stick with a summary statement.
Two common reasons to use a work objective are:
You are changing careers and don't have an elaborate work history.
You are fresh out of college and have no work history.
A work objective can also be used if you are providing your resume to a company that has no specific job openings but fits well with your skill sets and career goals. As an example, suppose that you have a strong computer programming and networking background. A great target company for you to work at would be Google but let's say that Google is not hiring at the moment. However, in your social network you have a friend who has a relative that is a hiring manager at Google. That is a great "in" for you to use but since you are not applying for a specific job, you could  include a work objective statement so that the hiring manager knows at-a-glance what type of jobs to keep you in mind for.
I personally used a work history statement to address the gap in my employment. After being laid off I spent two years finishing my bachelors degree in my field. I used the work objective statement to address my employment gap without calling extraordinary attention to the fact that I had been unemployed for the last two years.
Constructing A Work Objective
Your work objective statement should be very specific as to what you want to do. But do not make your work objective too far above your abilities. You don't want to state that you wish to be the director of research and development if you are fresh out of college.
You might find it helpful to start with a simpler statement and work your way up from there. You can start with a short statement such as this:
I am looking to work in a sales position.
From here you can break it down by asking yourself questions such as, where would I like to sell? In an office?  In the client's office? Over the phone?  Now narrow it down further:
I am looking to use my sales acumen in a sales position that focuses on direct client interaction.
Now narrow it down even further by asking what types of products or market you'd like to sell:
I am looking to use my sales acumen in a sales position that focuses on direct client interaction in the B2B market at XYZ corp.
Keep narrowing your work objective down until it gives an accurate, one-sentence summary of exactly what you are looking for. Also, keep your work objective as concise as possible.
Tailor Your Work Objective
Be sure that each job you are applying for fits within your work objective statement. If you are flexible in certain aspects of your work objective, you can tailor your work objective to coincide with what each employer is looking for. It is also a good idea to use appropriate keywords in your work objective. As with everything on your resume, target your work objective statement to specific job openings.
If the job posting you are applying for is for a sales position in the B2C market and you are happy with a B2C sales job, then swap out the B2B for B2C. But only do so if you are going to be happy working in that type of job.
Remember to be flexible with your work objective statement wording and use. Only use a work objective statement if it promotes the possibility of you receiving an interview or job offer.