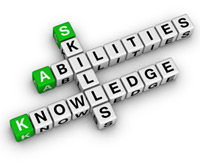 The summary statement of your resume will need to catch the eye of both human readers and scanning programs that pre-sort resumes. By following the steps below, you will be able to craft a summary statement that does just that.
Identify your job skills
Use your accomplishment statements to find additional job skills
Create keywords for each job skill
Write your resume summary statement based on your job skills and keywords
Identify Job Skills
The key to identifying your job skills is to identify the areas in which you have both background and expertise. Think through the different places you have been employed and the different tasks you performed for each employer. Identify the job skills needed to perform each task in each job and write them down.
Another way to find your job skills is to read job postings related to your field. If you run across a job requirement that you have a corresponding job skill, add it to your list.
Since you are not necessarily going to be applying for these jobs, you do not have to narrow your job posting to your geographic area. Narrow your search only to your particular field.
Accomplishment Statement Skills
You can also identify your skills by searching your accomplishment statements and pulling out job skills that you used to accomplish your goals. You can read more about how to do this in the article, Creating An Accomplishment Statement Cheat Sheet. I've created a worksheet that you can use to record all of your accomplishment statements along with the skills related to them. It is available in the downloads section of this website.
The reverse is also true. If you have identified job skills that you have not already created an accomplishment statement for, you can think through your work history and write a new accomplishment statement tailored to that job skill.
Create Keywords
Keywords are simply words that an employer would use to describe exactly what they are looking. So if an employer was looking for an employee that had sidewalk repairing skills, a keyword they might include in the job posting may be "Certified Jackhammer Operator".
Use the list of job skills that you created earlier and write the related keywords next to each job skill. Each keyword will describe a tool you used in that job skill.
Job Skill
Website development
Project management
Marketing
Keywords
Html, Javascript, Css, Php
PMI certification, Gantt charts
American Marketing Association (AMA) member
Write Your Summary Statement
In two or three lines, your summary statement should answer the question, "Why should I even consider hiring you for this job?" This is where you will tie your job skills and keywords together into one extremely focused, mind blowing presentation of your ability to fulfill what each employer is looking for.
Tailor your summary statement to each job posting as closely as you can. You already have a blueprint created by tying your accomplishment statement to your job skills and your job skills to your keywords if you used the spreadsheet I provided.
Now all you have to do is find the keywords within each job posting and match them to the keywords, job skills and accomplishment statement in your spreadsheet. Using the matching keywords will allow you to tailor your summary statement to each specific job posting.
What does a well crafted summary statement look like?
Your summary statement should look a little bit different for each job you are applying for but each one should be concise, focused and it should match the job requirements the employer is looking for.
In 2004, I was approached for a job as a webmaster for a mid-sized company. The job duties included writing all the Html and code necessary to update and maintain a group of about 20 websites. My summary statement looked like this:
Five years experience developing intranet web productivity tools using HTML, Asp and JavaScript in a Microsoft IIS and Windows NT/2000 environment. Created Microsoft Access 97/2000 databases and SQL queries to support web tools developed.
This was the summary statement off my general resume so I did not have an opportunity to adjust it to be specific to what they employer was looking for. However, enough of the keywords in my summary statement matched the company's needs so that it caught their attention and helped me to get an interview. In the end, I received a job offer.
Your summary statement is going to be one of the first filters an employer uses to decide if you make it to the next step in the hiring process. Use your summary statement to effectively market yourself and truly wow your intended audience.
Already have your resume ready to go? Check out our Immediate Job Openings page to find job openings in Illinois!