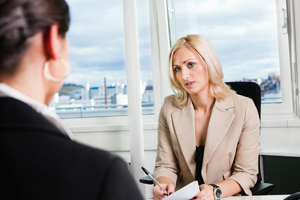 Recently, I had the opportunity to help conduct interviews for an online marketing position.  The company asked me to help because of my background in IT and social media. They needed me to weed out the resumes that did not meet the job requirements and then conduct a short phone interview to determine the technical capability of the applicants.
It was a great experience and I learned a lot during the process. Once a candidate made it past the resume review, a phone interview was scheduled so I could better judge their ability to perform the job. If they made it past the phone interview, a live interview was scheduled.
The live interviews all went very well.  All of the candidates were qualified for the position and any one of them would have been successful fit. However, during the phone interviews, I noticed that many of the job candidates were making some very basic mistakes.  This was the first chance for the candidates to make a lasting impression and quite a few shot themselves in the foot (some more than once).
If you are currently looking for a job, pay close attention to the following mistakes made by my interviewees during our phone interviews and make sure not to duplicate their errors.
5 Phone Interview Mistakes Real People Made
1. Come Prepared –  "But it's a phone interview, what could I possibly have besides my voice?" First, have samples of your work ready to be viewed online or sent over in an email, especially if you are applying for a tech savvy position. Since the position I was hiring for involved a lot of online content writing, I expected to be able to view some writing samples while conducting the phone interview.
While some candidates did have some samples, others had no writing samples or very outdated writing samples. Also, make it as easy as possible for the interviewer. One person submitted writing samples but they were all in picture format. This was not a deal killer but it was a step in the wrong direction.
Not only could the candidates have had writing samples online, they could have prepared ahead of time by creating a simple Word document that contained all their job related content such as links to social networking profiles (not usernames and passwords which is now illegal in Illinois), social media campaigns they have managed in the past and a list of websites they currently own or manage. At any point in the interview the candidate could have asked for my email and sent me the information.
2. Show Some Personality – If you have made it to the phone interview, please, for the love of God, do not speak in monotone voice the entire conversation. Show some personality. If you can connect with the interviewer and create a good conversational flow that draws your interviewer in, you are going to leave them with a positive impression. Droning on relentlessly will only leave your interviewer bored, causing them to miss how great of an employee you would be.
Fortunately, I only had one person who spoke in a  monotone voice. While this was not an instant deal killer, it left a negative impression that did not help their chances to receive an in-person interview.
3. Mind The Time – You know what's worse than speaking with a person who speaks in a monotone voice the whole time? A person who speaks to you in a monotone voice for 15 minute stretches without pause. Unfortunately for me, the monotone interview also ended up being the person who talked for 15 minutes at a time for each answer.
When your interviewer tells you that this should be a short 15 to 20 minute interview, please keep that in mind when giving your answers. Talking for 15 minutes in response to the first question is not going to earn brownie points. In fact, your interviewer just may be struggling to keep their eyes open after the first minute or so.
Try and keep your answers to under 90 seconds. Ninety seconds is about the limit of a person's attention span. Any longer and you risk losing your interviewer. Keep your answers concise but make sure to include everything the interviewer is looking for. If the interviewer wants more clarification on a particular point, they will ask you.
4. Imma Let You Finish But… – I think everyone remembers the issue Taylor Swift had with another entertainer interrupting her acceptance speech at the VMA awards back in 2009. Well it doesn't just happen to country singers, it happens to interviewers too.
Interviews are give and take. The interviewer asks a question, the interviewee responds and the interviewer asks a follow up question if needed. Rinse, repeat. It has the ebb and flow of a natural conversation. Unless, like one of my interviewees, you don't let the interviewer get a word in edgewise and interrupt whenever they try and speak. Not only is it rude but the interviewer will not be able to determine if you are the best candidate for the job. If they cannot direct the interview to the topics that are important to the employer, how will they know if you are able to handle the job functions?
Luckily, the interrupting interviewee was very qualified and they were usually answering the follow up question I was about to ask before I was able to finish the question. I chalked it up to mostly nervousness on their part.
5. Psst…Did You Hear What So-and-so Did? – I saved the best for last. Badmouthing your former employer is never a good idea. No matter what the situation, do not talk about your past employers mistakes and shortcomings. It only reflects negatively on you.
My final candidate managed to bring up how poorly their previous employer was managing their business in nearly all of their answers. In fact, they felt the owners were doing so poorly, that they decided it was a good idea to band together with other employees and former employees to create a forum on the internet about how incompetent the business owner was and what they should do to improve the business. It was bad enough that they had taken these actions, but they also decided to share this information throughout the entire interview. They did not make it to the in-person interview.
The last thing an interviewer wants to hear about is how bad your former employer was. The first thing that crosses their mind is, "Well what is this person going to say about us the minute they do not like something our company does?"  If you are harboring ill feelings toward your last employer, just keep it to yourself.
Lessons
While searching for interview advice online, you will run into the same generic interviewing guidelines over and over again: Come prepared, Engage the interviewer, Keep your answers under 90 seconds, Be polite and Don't badmouth past employers. There is a reason this advice is constantly being repeated. It's because people are still making these same mistakes over and over again. During my interviewing experience I witnessed all of these mistakes first hand.
There is a certain amount of leeway that employers are going to give job applicants during the interview process. When interviewing a person, you expect a certain amount of nervousness and you expect that nervousness to surface in different ways for different people. Your job as the interviewee is to be aware of these mistakes so that you can prepare ahead of time and avoid making them.  The more you prepare and practice for your interviews, the less likely you will be to blunder.