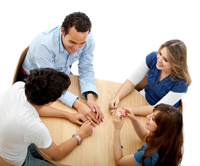 Many times when a person first becomes unemployed their initial reaction is to immediately try and find another job by applying to every company that has a job opening. While this may have worked out fine in the past, the current economic situation of the nation and Illinois in particular, inhibits the effectiveness of this path.  The August 2011 unemployment rate for the nation is holding steady at 9.1% while the preliminary July 2011 unemployment rate for Illinois and Lake County are 9.5% and 9.0% respectively.
What this means for the average job seeker is that there is intense competition for every open position. Employers are being flooded with applications from not only qualified job candidates but also overqualified and underqualified job candidates. What this means for you is that, now more than ever, you need to accurately target the career openings that are the best fit for you.
Adjusting
Don't be afraid to take some time to assess your new situation. Be honest with yourself about your previous job and your previous line of work. Is it a viable industry for you to continue to pursue? What are the industry growth projections? Do you have the skill sets and training necessary to be competitive in your current career path? If not and you are working in an industry with strong growth potential, what other adjacent industries could you target for employment?
Taking Control
You will need to take control of your unemployed state as soon as possible. This is going to require you to plan your path to employment. Setting and achieving goals will be your key to finding a new job. A haphazard job search will not net you the same results that it once would have. The better you organize your search efforts, the more likely you will be to have positive results sooner.
Budgeting
How soon do you really have to be back to work? Most people have at least a rough idea of what their monthly expenses are but not many can honestly tell you exactly what they need to survive. Creating a budget is something you will need to do very soon after being let go. You need to know what your absolute cut off date is going to be for being gainfully employed once again. By knowing this date you can plan your activities accordingly. Keep in mind that in August 2011, 42.9% of people were unemployed for 27 weeks or longer. Knowing your budget cut off date will allow you to determine how aggressive you will need to be in pursuing your new job.
Planning
Creating a plan for your change of jobs is essential. Having a predefined course of action will not only help introduce stability into the recent chaos you have been forced into but it will also give you more confidence in your decisions. Having a plan in place will help you to deal with everything from job interview to networking and will even assist with updating your skill sets to be more competitive. Create a plan or process for every action that you will to need to do during your job search.
Self Improvement
The odds are, there have been many more people in your industry that have been laid off. This means increased competition from increasingly qualified job candidates. Evaluating yourself for improvement has the potential to really pay off in your job search. Any skill that you can add to your repertoire increases your desirability with potential employers. A new computer skill, speaking a foreign language or adding a degree or certificate to your resume has true potential to make you stand out from other job applicants.
You probably had no choice about becoming unemployed. That change was forced onto you by circumstances beyond your control. It's painful, aggravating, confusing, chaotic and infuriating all at the same time. But don't let that stop you or hold you back.  Take the time to properly prepare for your job search and you can be one of the few that works your way into a new, successful career.